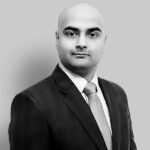 Ravi has Immigration and Asylum experience for over a decade. He works in all areas of immigration and asylum.  Ravi has a unique characteristic of working in both private and legal aid which includes individual and business immigration. Furthermore, Ravi has dual qualifications as a barrister and solicitor. He has also successfully completed his accreditation in Immigration & Asylum Scheme (IAAS) and has been qualified as both a senior caseworker and supervisor.
Ravi has made several successful applications for high net worth individuals and businesses, global talent visas, sponsorship licenses, and work visas. His skill and expertise in these areas have grown from strength to strength and he has significant experience in all areas of business immigration. On a regular basis, Ravi also deals with spouse visas whether entry clearance or in-country. He is also extremely competent in all types of family and private life applications; citizenship applications, visit visas, etc. To keep his clients informed, Ravi is always up to date with the constant change in immigration laws. 
Having achieved a distinction in Company and Business Law, Ravi knows clients' needs and understands business models. Ravi deals with complex immigration and asylum cases. He is a specialist when it comes to judicial reviews, appeals in the First-tier, Upper Tribunal, and cases to the Court of Appeal.
LPC- Postgraduate Diploma in Legal Practice Course 
BVC- Postgraduate Diploma in Bar Vocational Course
LL.M- Masters in Professional Legal Skills
LL.B(Hons)- Bachelors of law
IAAS- Senior Caseworker Immigration & Asylum Accreditation Scheme
IAAS- Supervisor Immigration & Asylum Accreditation Scheme
Law Society
Lincoln's Inn 
ILPA- Immigration Law Practitioners Association
RLG- Refugee Legal Group
Client's have described Ravi as:
"I was Mr Ravi client he was a great person and very professional. Easy to communicate with him always response quickly definitely recommend him as best solicitor" (2021)
"I want to thank the CK solicitors, especially Ravi which has been very helpful and patient with my case which is now successful…" (2020)
"I just wanted to thank you Ck solicitors specially Ravi for your guidance & patience while helping me. You really made things go easier than I had anticipated and your thoughtful guidance was truly appreciated!" (2019)