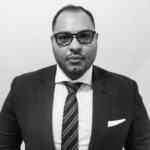 Bogomil joined CK Solicitors as a paralegal. He has shown his skills in the Immigration department and has been appraised for his efforts by clients and colleagues. He is competent in various immigration applications and simultaneously is preparing for his IAAS examination.
Bogomil's academic career has been profound. He has pursued his BA (Hons) from West London University and completed CPE from London South Bank University before moving on to Legal Practice Course (LPC) from West London University, with a specialization in Immigration, Family, Tenant, and Landlord Law. Bogomil has also completed his Masters in Law from West London University. 
Bogomil has worked in numerous immigration cases so far and has excellent attention to detail and problem-solving abilities. He has worked with various companies located in London which has aided him in building a positive relationships with clients. 
Bogomil is multi-linguistic and can speak German, Russian and Bulgarian in addition to English.
LPC- Post graduate Diploma in Legal Practice Course 
LL.M- Master of Laws
CPE- Common Professional Examination
BA(hons)- Bachelor of Arts
ILPA- Immigration Law Practitioners Association